Make Your Own Natural Dishwasher/Scouring Powder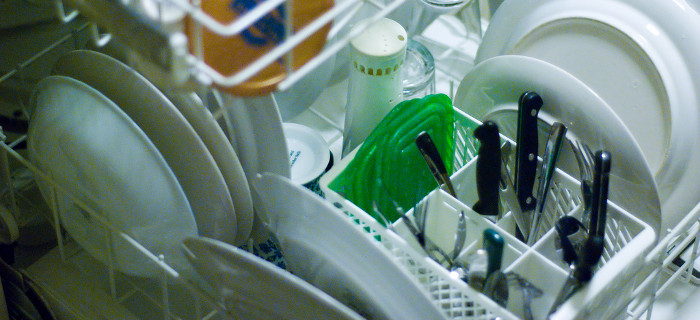 An easy and cheap natural cleaning product
For some time now I've been experimenting with making my own dishwasher powder. I've tinkered with the basic formula, even at one point adding Kool-Aid to it (for the citric acid--it turned out to be a crucial step in figuring the formula out). In further experimentation I've discovered it makes a decent no-scratch scouring powder as well, more like Bon Ami than Comet.
What I've discovered is that it doesn't work as well as some of the commercial detergents; however I have found that it works just as well as the major "green alternative" dishwasher detergents, if not a little better, and at a fraction of the cost. If you don't like scraping your dishes and rinsing them off, you won't like homemade powder; I found you had to be diligent about getting all food particles off your dishes because the dishwasher powder will not do it for you. Of course, many dishwashers require you to do this anyway, but oftentimes people are lazy. Like, uh, me. But this is so much easier on the environment and the pocketbook it's worth taking the time to properly prepare the dishes, I've found.
The formula
Here, after much experimenting, is the formula for dishwashing powder.
In a plastic container with a firmly fitting lid, mix:
1 cup borax (20-Mule-Team Borax, available in any supermarket)
1 cup baking soda
1/4 cup salt
1/4 cup citric acid (available in brewing stores among other places--if you haven't tracked it down yet but must try this formula, use two packets of Lemonade-Flavored Kool-Aid, ONLY lemon, or you'll dye your dishwasher! and ONLY unsweetened Kool-Aid!)
30 drops citrus essential oil--lemon, grapefruit, orange, tangerine, or a mixture

Put all of it in the container, shake it up.
To use, put a tablespoon or so into each cup of your dishwasher. I've found I no longer have to use the scrubbing cycle but can get by fine with the short cycle, thus saving even more money. On average, it looks like this is about 8 cents a load compared with Cascade at 22 cents a load. Compare it with EcoVer or Seventh Generation and it's a steal. I have also started putting some of this in a shaker canister--the one I have we got at a restaurant supply, it's aluminum and was made for popcorn salt. I use it to clean my sink and anything else that I'd normally use Bon Ami on. Works great, and the essential oil makes it smell fantastic.
Lynn Siprelle is the woman behind all this.