Spot's Spots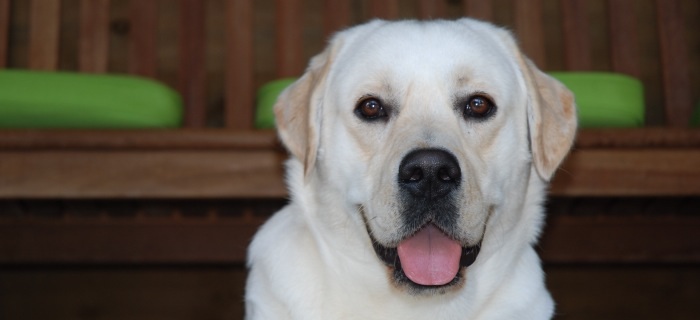 Cleaning up after your pets
Our pets give so much to us. Unconditional love, endless excitement when we come home, a warm purring presence in our lap...hair on the floor, on our clothes, and in our food, occasional liquid outpourings, scratched furniture.
But we love them too and wouldn't live without them. When the inevitable happens, how do you deal with the mess? I'm going to confine my remarks to the messes created by the average dog or cat. If you've got an iguana roaming your house, you know more about cleaning up after it than I do. But I've had one furry mammal (or more) since I was five years old, and that adds up to lots of paper towel rescues.
Make it Easy - Prevent Mess
As much as possible, prevent the mess. Some of this requires training, some simply forethought. For dogs, training is in order. Of course you want your pet trained to go outside or on papers for urination and defecation. There are some other easy tricks that you can train into your routine from puppyhood which will ease some of the cleaning burden. If your dog goes outside, keep a towel by any entrance. Always stop your dog at the door and wipe all four paws. If you do this when it's sunny, then after a rousing game of mudball, it will be an accepted part of going inside.
Underneath both the food bowl and the water dish, place some kind of absorbent pad. Since we have a big, jowly Labrador, a regular towel goes underneath the water dish. Drips which otherwise would track around fall mostly onto the towel. Once a week, or more if needed, it gets dropped into the washer. Needless to say, you want an established place to feed your dog. This both suits his or her needs and confines any preparation and eating mess. Ideally, this area would have hard, non-absorbent flooring anyhow.
Although you've read it everywhere, the more you brush your dog, the less hair will flow into your house. Add central heat and air to a dog who spends a lot of time inside, as ours does, and you don't have just twice a year shedding. We've interrupted the normal coat growth with temperature regulation. Unfortunately, this means a more or less constant rain of hair. When we brush, our dog is happier and I don't have to vacuum every day.
If your dog has a prime spot, where she can always be found, think ahead. Why not a special Bowser blanket? Any dirt or hair will end up on the blanket, rather than your couch or floor. If your dog leans against a certain wall or piece of furniture, cover it up for daily use. Anything you can wash without washing the entire item cuts down on mess.
But What About My Cat?
We all know you can't train a cat like a dog. Some of the same prevention techniques that work for dogs work for cats. Most cats will at least tolerate a brush or comb; some positively love it. The more hair you collect, the less your cat can distribute in interesting places.
Cats are usually less messy eaters than dogs, so putting down mats isn't a necessity. But cats do tend to sit in certain places, and mine leave cat-shaped hair areas. We cover our guest bed with an old army poncho liner. It ties on the bed frame, so the cats can't pull or jump it off. I can gather up their hair when I do the laundry, or shake it outside.
Must They Do That?
Cats do tend to want to drag their claws against nice, upholstered surfaces. Can you break them of it? Sure, but as with most animal things, it's easier if you start right. When you bring your cat home, have something for it to scratch. A store-bought post, one you make, whatever. When your adorable kitten stretches out and puts its claws on the recliner, you gently say "No, no," and carry it to the desired place. Use much praise when they claw there, of course. If your cat is already scratching the furniture or drapes, you can use a spray bottle with water to squirt them when they're doing it. They'll stop, but will they do it when you're not around? Maybe. There are many products available that claim to deter cats, but you'll have to do some testing. Some stain furniture, and I'm not sure how well they work. Sachets of cayenne pepper may do the trick. You could also try luring them to the scratching post with something nice, like catnip.
Cat litter boxes are the source of a lot of household tension around here. When they track litter out, someone has to sweep it up. Keeping a box clean is almost a twice-a-day proposition. Fortunately, though, most cats don't have to be trained to use a box. They generally appreciate a quiet place where they aren't likely to be disturbed, not too near their food. The new clumping litters have revolutionized cleanup. Both solid and liquid messes can be scooped out. Hard-clumping formulas work best if you have more than one cat, or a vigorous cat who really makes the sand fly when covering.
A mat around the cat box, preferably with some kind of raised edge and a rough surface, keeps litter which sticks to the cat's paws in a confined area. Some cats won't use a covered box, but if it doesn't keep you from twice-daily cleaning, having a cover keeps accidental litter flinging to a minimum. Keeping the box cleaned out and occasionally washing it completely makes it less likely your cat will find a more idiosyncratic place to go.
Some people have trained their cats to use the toilet. Detailed instructions can be found in Don Aslett's How to Clean Anything. I've never done it, but I'm sure it can be done. Intriguing but expensive are the automatic scooping boxes. An electric eye "knows" when the cat has gone, and an arm scoops the poop into a receptacle, ready for your to empty it. Again, I've never tried these, so I don't know how well they work.
The easiest spot to avoid is blood trails from a female in season. Unless you're a professional breeder, your female animals must be spayed. Do it before her first season, and protect her from breast cancer, too. Just ask your vet about it. Unneutered male animals are also much more likely to mark territory, with highly aromatic output. Make the kindest cut and cut down on your work.
Bugs, Bugs, Bugs
While technically not a mess animals make, fleas are such a potential housekeeping nightmare they need considering. If you get a really sound flea infestation, you're going to be laundering and vacuuming, vacuuming and laundering, and you may have to use noxious chemicals. Better to prevent than clean up. There are some workable long-term flea medications on the market now, under names like Advantage and Frontline. These use a poison which gets absorbed into and then excreted from your pet's sweat glands. Living in a rain forest, I can attest that they work and work well.
If you're opposed to using any chemicals on your pet, you can use a mix of nontoxic approaches and mechanical controls. Some people swear by feeding Fido a mix of brewer's yeast and garlic. Others make cloth collars filled with pennyroyal. Pennyroyal oil can make your animal sick, so use it with caution. You might want to consult a good animal herb book before indulging. For cats especially, a metal flea comb works wonders. If you use it daily for a few weeks, you might reduce the flea numbers enough to take care of your needs. Fleas get caught in the tines of the comb, and if you keep a bowl of slightly soapy water to put them in, you can stop them in their tracks. Darker fur is harder to see fleas on. Maybe if fleas are a problem in your area, you can specialize in light coated animals.
What Goes In, Must Come Out
Your dog or cat has got to do what comes naturally. As far as prevention goes, good training, good litter box hygiene, and spaying and neutering are all on your side. While they don't technically have to do it on the rug, you can bet your dog biscuits that at some point, an animal is going to "go" on your floor. If you have hardwood or tile throughout your house, you're in luck. All you really need is white vinegar, water, and paper towels. Vinegar cuts the smell from any urine or feces; use it as an after-cleanup wipe, half and half with water.
Most of us have some kind of carpet somewhere. And, odds are, if your pet is going to go, it will be here. If you're lucky enough to be there quickly, the first step is to get it up. Lift, scrape, blot, whatever it takes to remove as much material as possible. After you've removed most of it, you can deal with the rest. For feces, there are both visual and odor problems. Lightly washing the area with a mild detergent or carpet spot remover usually takes care of the visual spot. You do not want to put so much water on that you carry the smell deep into the rug. If you got there quickly, a vinegar-and-water mix often cuts the odor well enough that neither you nor your animal can tell where the place was.
If you discover the mess later, you've got a bigger problem as the stuff has sat and soaked longer. Unfortunately, most carpets have layers of padding and backing below them. Any urine or liquid mess that gets down there will continue to attract dirt and cause odor. Commercial cleaners specially formulated for pet cleanup contain enzymes. These actually digest the odor-causing particles. Without taking the carpet up, they're the best you can use.
If the feces have actually dried on the rug, a scraper is your best friend. Scrape up all the matter, vacuuming up any little bits. Then you'll need to decide: do you want to introduce a liquid cleaner? If so, my vote goes for the enzymatic cleaners. I have heard that problem cats will not urinate on a sisal rug. If you're having problems, this may help. Any cat who urinates outside of the litter box suddenly or a lot warrants a visit to the doctor. Urinary tract infections can disrupt their normal routine enough to cause accidents.
Our beloved animal companions don't just spew out the back end, no. Occasionally, they're going to vomit on your floor, your furniture, your laundry. It just happens. Dogs eat who knows what and decide later it wasn't a good idea. Cats ingest grass or too much food, and up it comes. Here, some prevention is possible. Brushing your cat will cut down on hairball formation and the attendant gagging. If you've got a longhair cat, consider asking your vet about a hairball preventative. They are going to lick themselves, so make it easy on you.
When an animal throws up, it doesn't bother them one little bit. But they are sharing digestive enzymes with whatever surface they choose. Quick responses here save you work later on. Blotting is the key response after removing any solids. Generally, the animal won't return to this area the way they will if they've "marked" a spot. Enzymatic cleaners may be the choice if an animal has vomited on upholstered furniture. No sense leaving a light spot.
It may add to your peace of mind to have a "spot caddy," with enzymatic cleaner, vinegar and water mixed, a roll of paper towels, and a plastic scraper all put together. Then, if you hear that "ack, ack" from Fluffy, you can run for your kit. No one who has a pet gets away with no cleanup. Make it as easy on yourself as possible, and have more time to cuddle and enjoy that fur face sharing your life.