Vinegar: (Almost) the Only Cleaner You'll Ever Need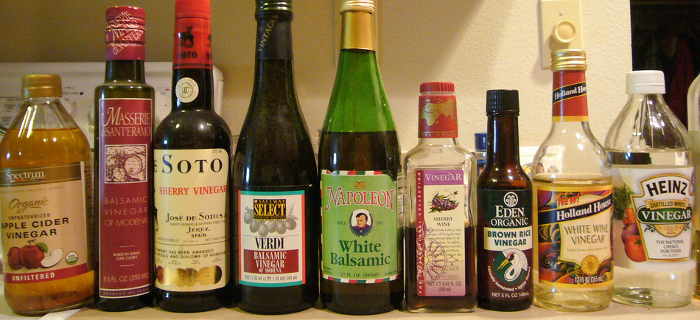 Cleaning with vinegar is powerful, natural--and cheap!
Most cleaning products fall into one of two categories: toxic or expensive. While both types will clean almost anything (or at least, anything within their limited range of capabilities), there's a third option. It's inexpensive and not at all poisonous to humans. It's multi-purpose as well--one container will take care of laundry, kitchen cleaning, even bugs and weeds. This "miracle cleaner" is vinegar.
Vinegar is a weak form of acetic acid that forms through the fermentation of sugars or starches. It is completely edible, and cannot harm your stomach. And luckily for us, many things can be cleaned using it.
The uses of vinegar are nearly endless. In addition to cleaning, it is an excellent item for cooking and for home science experiments (remember the vinegar-and-baking soda volcanoes from grade school?). The health benefits are many as well.
In this article, we are focusing on the uses of vinegar as a cleaner. For information on some of its other uses, see the links at the end of the article. Note: plain white vinegar is the best for the following uses; cider and other vinegars may have unwanted side effects. Vinegar is used in 100% concentration unless otherwise specified.
Your Vinegar Spray Bottles
In addition to your regular bottle of vinegar, a really useful item is a spray bottle. Ideally, you want two--one with pure vinegar, the other with a half vinegar, half water combination. Having vinegar in a dispenser of this type makes its use much simpler in many cases.

All Around the House
1. To remove stickers that have been used to "decorate" furniture and other surfaces, moisten with vinegar. Let sit for at least ten minutes, then remove.
2. For persistent room odors, place a bowl of vinegar in the room overnight.
3. For spills on carpet, use a sponge or cloth to soak up as much liquid as possible. Then spray with a mixture of half vinegar, half water. Let stand for about two minutes, then blot with towel or sponge. Repeat as needed.
4. For more persistent stains, use a mixture of 1 teaspoon vinegar, 1 teaspoon liquid dish soap, and 1 cup warm water. Proceed as suggested above. When finished cleaning, dry using a hairdryer set on low.
5. To clean windows, spray with half vinegar, half water. Wipe clean with either newspapers or cloth.
6. To clean silver, pewter, copper, or brass, dissolve 1 teaspoon salt in one cup vinegar. Add flour to create a paste (1/4 cup or more). Apply the paste to the metal item, and let stand for at least fifteen minutes. Rinse with warm water and polish with a soft cloth.
7. No-wax floors can be cleaned with a solution of 1 cup vinegar per gallon of water for a shinier surface.
8. To clean wood paneling, use a mixture of 1/2 cup olive oil, 1/2 cup vinegar, and 2 cups warm water. Apply to paneling with a soft cloth. Dry with a clean cloth.
In the Bathroom
9. To remove corrosion or chemical build-up from showerheads, soak in vinegar overnight.
10. Remove stains from the toilet bowl by spraying with vinegar and spraying.
11. To remove soap build-up from faucets, clean with a mixture of 1 part salt to four parts vinegar.
12. Spray shower walls and shower curtain with vinegar to help prevent mildew.
In the Kitchen
13. To keep ants away, spray vinegar along doorways, windowsills, countertops - anywhere that ants are likely to appear. If you find an ant trail (path that ants use repeatedly), clean it with vinegar.
14. To remove odors from the sink or garbage disposal, pour in a cup or more vinegar. Do not rinse out again for at least an hour.
15. For a clogged drain, first pour in 1/2 cup baking soda. Then add an equal amount of vinegar. When the mixture finishes bubbling, rinse with warm water. (Note: some garbage disposals do not react well to this cleaning method; check with the manufacturer first.)
16. Wipe your hands with vinegar after chopping. It will remove strong scents like onion and garlic, as well as stains from fruit juices.
17. To clean wooden cutting boards, wipe with vinegar.
18. Remove strong odors. Rinse jars with a half and half mixture of vinegar and water to remove garlic or other strong odors. Boil water with several spoons of vinegar to remove the smell of burnt food from your kitchen.
19. Vinegar is an excellent cleaner for all kitchen surfaces - counters, refrigerators, stovetops.
20. To clean your microwave oven, put a microwave-safe bowl of 1/2 cup vinegar and 1 cup water in the oven, and cook long enough to boil. In addition to removing any lingering odors, this will loosen any baked-on food from the microwave's walls.
21. To remove coffee or tea stains from china, clean with a mixture of vinegar and salt.
In the Laundry
22. To keep colors from running in the wash, soak in vinegar before washing.
23. To decrease lint on clothing, add 1/2 cup vinegar to the rinse cycle.
24. Many persistent stains can be removed with vinegar: coffee, chocolate, ketchup, jam, cola, wine. Gently rub stain with vinegar, then wash.
25. To make your "brights brighter", add 1/2 cup vinegar to the rinse cycle.
26. For fresher cloth diapers, add one cup distilled vinegar to the rinse cycle. This will break down uric acid and remove both lingering stains and scents.
27. To remove scorch marks from an iron, rub with a mixture of vinegar and salt.
28. To remove soap residue from the washing machine, run an empty (no laundry) cycle with one cup vinegar added.
29. To remove the smell of smoke from clothing, add a cup of vinegar to a tub of hot water. Let clothing hang in the same room for several hours.
Pet Care
30. To keep cats off windowsills or other surfaces, spray with vinegar. This will also keep them from scratching upholstery (spray an unnoticeable area of the fabric first to make sure the vinegar doesn't cause a stain).
31. To keep dogs from scratching their ears, clean with a soft cloth dipped in diluted vinegar.
32. If your dog should have a run-in with a skunk, vinegar will take care of the smell better than even tomato juice. Using vinegar diluted 50% with water, rub the dog's fur. Rinse with warm water. Repeat as needed.
Noël-Marie Taylor is a freelance writer located in Columbia, Maryland. Her work has appeared in many magazines, including PC Magazine and The Mother Is Me. A stay-at-home mom to two children, she is also the designer of several cross-stitch kits for children.