All About Potatoes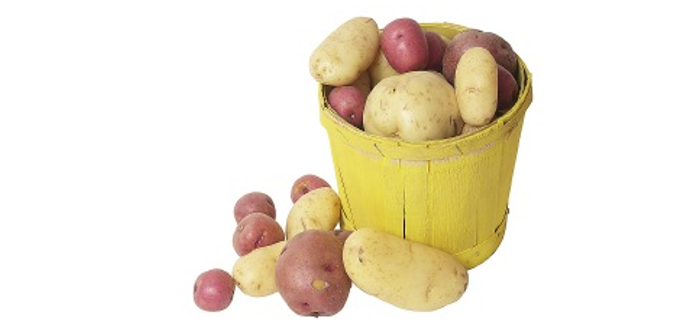 Delicious, nutritious, cheap and incredibly versatile
There is no food I like better than the potato. My family calls me the Potato Queen because I haven't met a potato dish I don't like. Baked or boiled, fried or mashed, hot or cold, I love them all. Potatoes' versatility allows them to be used as main dishes, side dishes, soups, salads, breads and even desserts.
Not only do potatoes have a simple taste that is easy to enhance, they're also filling, nutritious and inexpensive. A five-lb. bag of russet potatoes costs about $1.99; a five-lb. bag of the Yukon Gold variety runs about $3.99. One potato contains about a hundred calories and absolutely no fat. It provides 45% of the recommended daily allowance of vitamin C; ten percent of vitamin B-6; and smaller amounts of other minerals such as calcium, iron, thiamin and niacin.
Everybody, do the Mashed Potato!
Probably one of the most popular potato dishes is mashed potatoes. Simple and cheap, all you do is add a little milk and butter to peeled, boiled spuds, and mash away. My sister, who worked briefly in the kitchen of a university catering kitchen, taught me that it's better to add the milk first, mash, then add the butter. Many cooks add the butter first to allow it to melt, but adding the butter before the milk can cause the potatoes to
get gluey.
But don't stop at milk and butter! Make your potatoes fancy by throwing in a little something extra. Mix in some cream cheese, sour cream or Parmesan cheese. Sauté minced garlic or shallots in a pan with butter and stir them into the potatoes. Add grated Swiss or cheddar cheese and a couple of eggs, a casserole dish and bake for a fluffier potato dish.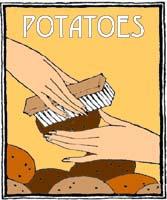 Or make a lot of mashed potatoes for on-purpose leftovers. Use them as the crust topping on a pot pie; it then becomes shepherd's pie. Mix in some flour and an egg and fry in a pan with a little oil for mashed potato pancakes. Add some milk, sautéed chopped celery and onion, and a couple of chicken bouillon cubes to make a hearty potato soup.
Baker tips
Almost everyone loves a baked potato alongside a nice, juicy steak, but a baked spud doesn't have to be a side dish. Top with chili or broccoli and cheese soup and you've got a satisfying lunch or dinner. Dress up a plain baked potato by making twice-baked potatoes: after baking, cut off the potato top, scoop out the insides and mash with butter and sour cream. Spoon the filling back into the potato shells, reheat and serve.
Making "fried" potatoes in the oven is not only simple but is often less fattening than other potato dishes. Slice potatoes into 1/8-inch rounds, sprinkle with Parmesan cheese and bake in a casserole dish. Cut into wedges, toss with a little vegetable/olive oil and rosemary and bake on a cookie sheet at 425 for half an hour for easy French fries.
And then there's casseroles
Potatoes also make great casseroles. Layer sliced potatoes in a 13x9-inch dish with cream of mushroom soup (or cream of chicken or celery), chopped cooked ham and diced green pepper and onion; sprinkle the top with grated cheddar cheese and cover with foil. Bake in a 350 oven for 50 minutes for a filling one-dish meal.
This potato casserole recipe is my all-time favorite. Mom makes it during the holidays and usually doubles the recipe when she knows I'm coming to dinner. It's wonderful as either a side dish or a main dish. I like to eat it as leftovers, mixing in some leftover chopped ham.
Yummy Potatoes

6 cups boiled, grated potatoes

1 can cream of chicken soup

8 oz. sour cream

1/2 cup (or more) chopped onions

8 oz. shredded cheddar cheese
Mix all ingredients. Grease a 13x9 casserole dish; spoon mixture evenly into dish. Top with more cheese if desired. Bake at 350 for half an hour or until heated through. Serves 8-10 as a side dish.
Amy Gray has a bachelors degree in magazine journalism from Ohio University. Amy is a homemaker and mom to three cats: Mulder, Scully and Piper. She enjoys knitting and cross-stitching as well as tatting, and is currently trying to teach herself to crochet.