Beating the Breakfast Rush Hour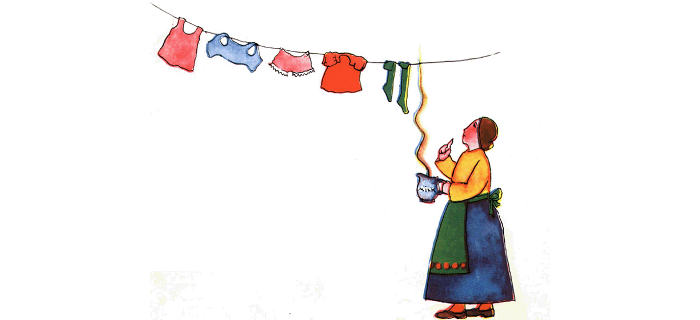 Cook-ahead breakfasts for the freezer
In many families, morning is a hectic and hurried time. Frequently parents feel fortunate just to get everyone out the door fully dressed each day. Serve a hot cooked breakfast every morning? Not a chance. Breakfast (if it's served at all) often consists of grabbing a toaster pastry and a quick glass of juice as the family runs out the door racing headlong to work and school.
I've discovered that taking an hour or two on an occassional weekend to prepare breakfast items for the freezer, takes much of the insanity out of the weekday morning rush.
Waffles, pancakes, French toast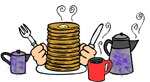 To prepare waffles, pancakes and French toast for freezing, cook until lightly browned--don't overcook. Then freeze individually in a single layer on a cookie sheet or flat pan. When frozen solid, stack together in a freezer bag. By freezing these items separately, they won't stick together. You can remove only the amount needed for today's meal--whether it's one waffle or a dozen.
For reheating, just pop them (still frozen) into the toaster on the pastry setting (low) just like you would do with the boxed frozen waffles from the store. Heating in a toaster keeps them firm, rather than limp and soggy, which often happens when these breakfast items are reheated in the microwave.
Muffins and quickbreads

You can make muffins and quickbreads ahead of time to serve for easy breakfasts. Just bake your favorite recipes as usual, cool completely, wrap in foil, label, and freeze. You can also wrap individual muffins in plastic wrap and then place the wrapped muffins into large zip-top freezer bags.
Muffins can be easily reheated in the microwave. Serve with fresh fruit and juice for a delicious and easy breakfast.
Recipe: Breakfast Burritos
To get you started on the road toward simple breakfasts, here's a recipe for easy Breakfast Burritos...definitely one of my family's all-time favorite make-ahead meals.
BREAKFAST BURRITOS
From: Frozen Assets: How to cook for a day and eat for a month
(Makes 24 burritos)
12 eggs, beaten
1 pound bulk sausage, cooked (or crumbled links)
1/2 cup chunky salsa (your choice of heat)
2 cups cheddar cheese, shredded
24 flour tortillas (you can also use whole wheat)
Scramble eggs in large skillet until done; stir in cooked sausage and salsa. Warm tortillas in microwave 20 - 30 seconds or until warm and flexible. Place 1/2 cup egg mixture into tortilla; roll burrito-style.
Freeze burritos in single layer on lightly greased cookie sheet. When fully frozen, wrap burritos individually; place wrapped burritos in large zip-top freezer bags; freeze.
TO SERVE: Unwrap burritos from foil or plastic wrap that you used for freezing. Wrap in a paper towel. Cook in microwave until heated through (about 2 minutes). Or thaw burritos (remove plastic wrap if used in freezing), wrap burritos in foil, and bake at 350 degrees for ten minutes.
Optional Ingredients:
1 green pepper, finely diced
6 potatoes, shredded and fried until cooked through (or use hashbrowns)
Jalapeno slices
Small can chopped green chiles
1-2 cloves garlic, finely minced
1 onion, finely diced
1 tomato, peeled and chopped
2 green onions, sliced with tops
I've even taken these frozen burritos with us when we've gone camping. I just place the bag of frozen burritos into the ice chest, and by the time we're ready for breakfast the first morning, the burritos are fully thawed. Then I simply reheat them in a large skillet over the campstove or fire grate.
Deborah Taylor-Hough (wife and mother of three) is the author of the bestselling Frozen Assets: How to cook for a day and eat for a month and the new book Frugal Living For Dummies. Visit Debi at http://hometown.aol.com/dsimple/